Bulk & Wholesale Yogurt &
Yogurt Alternatives
Yogurt is aligned with consumer trends towards functional foods with nutritious
ingredients, resulting in 83% of households consuming yogurt1!
Danone is the #1 manufacturer in the Yogurt category and the only manufacturer that
plays in all Yogurt segments2. Through Danone's many leading Yogurt brands, flavors,
and single serve, multi-serve, and bulk packaging options, you can find a Yogurt to
meet your needs.
Greek
Protein is the leading nutrient consumers are looking for3. Greek Yogurt has
2x the protein of traditional yogurt, making Greek the fastest growing
segment in Foodservice4.
Oikos® Greek Yogurt Cups
Oikos Greek Nonfat Yogurt
Oikos Greek Nonfat Yogurt
Oikos Triple Zero Greek Nonfat Yogurt
Two GoodTM
0 added sugar*, 0 artificial sweeteners, and 0
fat plus 15g protein per 5.3oz cup!
*Not a low calorie food
*Not a low calorie food
Dannon Bulk
Bags & Quarts
Kids
Danimals® and Dannon® Creamy
4oz qualify for any reimbursable
meal program or as
a Smart Snack.
Both are gelatin free, Non-GMO
Project Verified, 10g total sugar per
serving, and made with rBST-free milk*.
Plant-Based Yogurt Alternatives
Plant-based eating is more
relevant than ever as 54% of
Americans would
like to eat more
plant-based foods8. Silk® and So
Delicious® are the leaders in
plant-based yogurt alternatives
and fueling growth in the
category9.
Silk Almondmilk
Yogurt Alternative
Silk Soymilk
Yogurt Alternative
So Delicious Dairy Free
Coconutmilk Yogurt Alternative
Additional Yogurt Offerings
Wallaby® Organic
Light & Fit®
Danone Nonfat
Yogurt Smoothies
Light & Fit
Protein Smoothies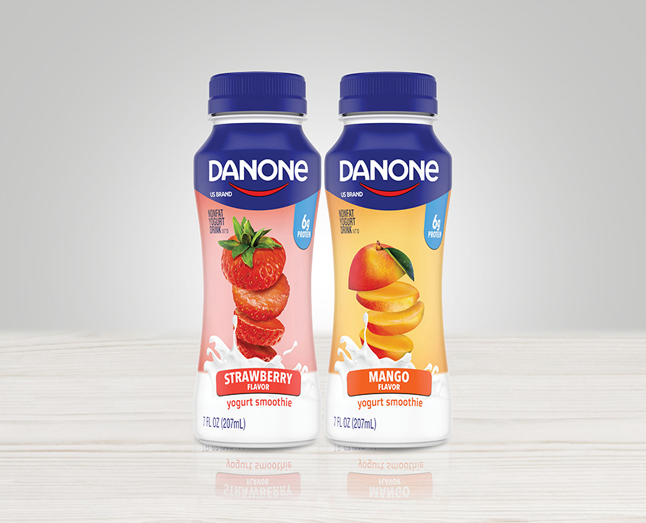 Introducing New Danone Nonfat Yogurt Smoothies!
6g High-Quality Protein
A Good Source of Fiber
Certified Gluten-Free
Gelatin Free
1 IRI Total US All Outlets, 52 weeks ending 8/11/19
2 IRI Scan – Total US MULO + Conv. 52WE 12/29/19
3 NPD Group / Diet Monitor, YE Feb 2018
4 NPD SupplyTrack $ Growth 12 months ending July 2019
5 NPD Supply Track 12 Months ending April 2019
6 Two Good: 2g total sugar per 5.3oz. Average Greek Yogurt: 11g total sugar per 5.3oz
7 IRI Total US – Multi Outlet, 52 weeks ending 8/25/19
8 The Hartman Group 2018
9 IRI Total US – Multi Outlet, 52 weeks ending 8/25/19
10 Activia® may help reduce the frequency of minor digestive discomfort. Consume twice daily for two weeks as part of a balanced diet and healthy lifestyle.
Minor digestive discomfort includes bloating, gas, abdominal discomfort & rumbling.
*These products are made from milk from cows that are not treated with rBST. However, no
significant difference has been shown between milk derived from rBST-treated and non-rBST-treated cows.