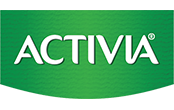 Activia®
Activia, with its billions of live and active probiotics, exceptional taste, and smooth texture helps support gut health every day.1
Find our complete list of Activia bulk & wholesale options for
foodservice operators and distributors below.

1Activia® may help reduce the frequency of minor digestive discomfort. Consume twice daily for two weeks as part of a balanced diet and healthy lifestyle.
Minor digestive discomfort includes bloating, gas, abdominal discomfort & rumbling.
---
Yogurt Cups
---