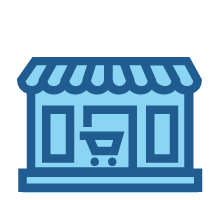 Convenience Stores
Foodservice and For-Sale Items
Consumers today have an on-the-go lifestyle and use convenience stores to not just refuel their cars, but also to refuel their bodies. Coffee remains a top selling item in convenience stores as a part of consumers' morning routines and as a mid-day pick-me-up.Consumers are also increasingly looking for better-for-you food and beverage options in convenience stores.
Coffee Creamer
Customization is critical in convenience stores – 89% of consumers like to
customize their coffee. 66% of consumers cream their coffee and 35% like to
mix more than one flavor of creamer into their coffee1.
Cold Brew Coffee
Cold Brew is driving the growth in the Ready-to-Drink Coffee category, and SToKTM is
the top selling cold brew in both grocery and convenience stores2. SToK is available in:
Grab & Go
Better-for-you food and beverage is growing 12-times faster than the overall
industry3, and consumers are willing to pay more for health and wellness
benefits4. Danone has consumer-loved plant-based, yogurt, and organic
brands in convenient on-the-go formats that fit their lives. See the full
portfolio
Ready to purchase?
Get in touch with our sales team.
Solutions for every industry
1 National Coffee Data Trends- Jan. 2019, National Coffee Association | 2 NPD Supply Track, 12 months ending January
2019, $ Share | 3 IRI MULO 52W ending 6/30/19 | 4 Datassential Buzz Report 2019
5 Danone Coffee Bar 5 Study | 6 Datassential Buzz Report 2019 | 7 IRI Groc+Super + TTL US Conv L52 wks ending 5/26/19