Vegan Cheddar Queso With Tomatillo Sofrito
Ingredients
Sofrito:

2 Tbsp olive oil

1½ cups chopped tomatillo (from about 5 tomatillos)

2/3 cup chopped onion (from 1 small onion)

½ cup shredded carrots (from about 2 medium peeled carrots)

1 jalapeño, finely chopped, seeds removed

2 garlic cloves, chopped

½ cup water

2 Tbsp finely chopped cilantro

¼ tsp fine sea salt

½ tsp freshly cracked black pepper

Queso:

1 Tbsp olive oil

2 tsp pureed chipotle in adobo, to taste

2 tsp sherry vinegar

1 tsp fine sea salt, to taste

Tortilla chips or crudités for serving

Note: For the pureed chipotle—blend 1 can of chipotle chiles (with adobo) in a blender until smooth. Save the leftover puree, covered in the refrigerator, for another use.
Instructions
Sofrito:
1. Heat the olive oil in a large skillet over medium-high heat until the oil is shimmering. Add the tomatillo, onion, carrot, jalapeno and garlic. Sauté for 5 minutes. Reduce the heat to low, add the water and simmer, stirring occasionally, until the vegetables are just tender, 5 to 10 minutes. Add the cilantro, salt and pepper. Remove the sofrito from the heat and set aside.
Note: This makes more sofrito than you will need to top the queso. Serve the remaining sofrito along with the queso as a dip for chips or crudités, or save it, covered in the refrigerator, for another use.
Queso:
2. In a medium saucepan, bring the So Delicious® Unsweetened Original Coconutmilk, to a boil over medium heat. Add the So Delicious® Cheddar Style Shreds and reduce the heat to medium-low. Whisk until completely melted, about 6 minutes. Add the olive oil, chipotle puree and vinegar. Stir until combined and add the salt (taste for seasoning and adjust as desired). Pour the queso into a bowl, top with a heaping spoonful of sofrito. Serve immediately with chips or fresh crudités.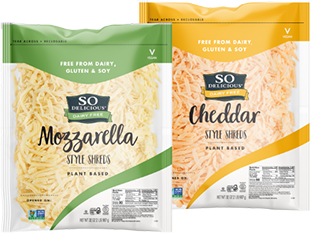 Request a Sample
Makes
---