Mac & Cheese With Local Mushrooms
Ingredients
Pasta:

Sauce:

15g grapeseed oil

100g Jack

100g Water

Salt to taste

Mushrooms:

7.5 oz mixed local mushrooms; we used:

2oz fresh Shiitake mushrooms, sliced into bite-sized pieces

2oz fresh Oyster mushrooms, sliced into bite-sized pieces

3.5oz fresh Cremini, sliced into bite-sized pieces

130g yellow onion, thinly sliced

30g grapeseed oil (or any neutral oil)

6g fresh oregano, chopped

Salt to taste
Instructions
Pasta:
1. In a medium pot, bring 3 qt of water to a boil, season with salt to taste place noodles in water and cook until al dente -- meaning not entirely cooked and has a little bite left. Save 100g of pasta water.
Sauce:
2. On medium heat, make a roux by heating the flour and both types of oil in a 2-3 quart sauce pan, constantly stirring until a blonde, buttery color is achieved. Add in So Delicious® Unsweetened Original Coconutmilk and continue stirring. You will notice it starts to thicken. Add in So Delicious® Cheddar and Mozzarella Style Shreds, turn to a low heat, and occasionally stir, avoiding any of the mix sticking to the bottom. At this time, you can begin the mushroom recipe. Once So Delicious® Cheddar and Mozzarella Style Shreds are fully melted, add in up to 100g of water, or as much needed to achieve thickness, similar to a pancake batter.
Mushrooms:
3. In a saute pan, on medium heat place sliced onions with all oil and cook until onions are translucent and have a little color. Add in mushrooms and cook until softened. Season with oregano and salt to taste.
Assembly:
4. Mix all ingredients in a large bowl to incorporate all parts of the recipe. If mixture is dry, add a little bit of the pasta water. Place in a casserole dish or cast iron, and place in oven at 350F for 10-12 minutes, or until the top creates a browned crust. Remove from oven, and enjoy!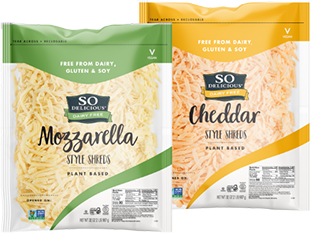 Request a Sample
Makes
---