Flatbread Pizza With Mozzarella Shreds
Ingredients
Flatbread:

625g flour

5g salt

70g vegan butter

6g dry active yeast

85 mL warm water

1.5g sugar

Sauce:

450g San Marzano tomato puree

12g basil, sliced

10g oil

5g garlic, sliced thin

50g yellow onion, sliced thin

Pinch of rosemary

Pinch of chili
Instructions
Flatbread:
1. Whisk the yeast and sugar in the warm water. Set aside to bloom. Bring the So Delicious® Unsweetened Original Coconutmilk to a boil in a small pot with add the vegan butter. Stir until melted and cool down until it's just warm. Meanwhile, whisk the flour and salt in a medium sized bowl. Add the yeast mixture and the So Delicious® Unsweetened Original Coconutmilk to the flour; stir until a smooth dough has formed.

Proof for 1 hour. Fold by pulling the bottom upwards over the top. Repeat a few more times. Cover with plastic wrap and let proof for another 2 hours.

Divide into 75g portions and roll into smooth balls. Place in a large white lexan that's been sprayed with nonstick. Cover with a plate or saran wrap, and proof for 30-1 hour.
Sauce:
2. On medium heat in a saute pan, saute onion, garlic, and oil together until onions are translucent. Add tomato puree. Simmer for 5 minutes, stirring occasionally. Add So Delicious® Mozzarella Style Shreds, and reduce heat until low. Stir occasionally until So Delicious® Mozzarella Style Shreds have melted. Add in rosemary, and pinch of chili, simmer for another 5 minutes. Remove from heat. Finely slice basil and add to sauce, season with salt to taste.
Assembly:
3. Preheat oven to 450F. Roll dough to around 6" in diameter using a rolling pin and stretching with hands until each is fairly thin. Place dough onto a floured sheet pan. Spoon 2 tablespoons of auce onto the dough, or however much you'd like, leaving an edge. Sprinkle with desired toppings -- mushrooms, kale, artichoke hearts, heirloom tomatoes, more So Delicious® Mozzarella Style Shreds. Place in 450F oven for 5-8 minutes, or until crust is golden. Remove from oven, drizzle with olive oil, finishing salt, and pepper, and enjoy!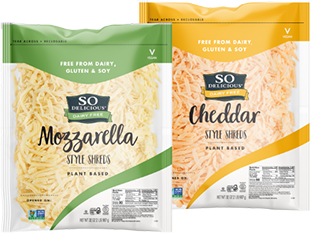 Request a Sample
Makes
---