Eggplant & Shiso Involtini
Ingredients
3 eggplants, trimmed and cut lengthwise into slices 1/4 inch thick (about 16 slices total)

¾ cup olive oil, or as needed

½ cup pine nuts

¼ cup extra virgin olive oil, more for drizzling

1 garlic clove, peeled and minced

Finely grated zest of 1 lemon

1 ½ teaspoons yuzu kosho

1/4c chopped Italian parsley leaves

16 shiso leaves

Salt and freshly ground black pepper

Tomato Sauce:

1T ume paste

4 cups drained canned crushed tomatoes

1tsp sugar

1T sherry vinegar

Pinch of salt and pepper to taste
Instructions
1. Heat oven to 375 degrees.
2. Place a ridged cast-iron skillet or other heavy skillet over medium-high heat. Working in batches, brush eggplant slices on both sides with olive oil and cook, turning, until soft and (if using a ridged pan) crisscrossed with grid marks. Set aside and allow to cool.
3.In a large bowl, combine pine nuts, 1/4 cup extra virgin olive oil, garlic, lemon zest, mint and parsley. Season to taste with salt and pepper.
4. In a bowl add crushed tomatoes, ume, yuzu kosho, 1tsp sugar, 1T olive oil, 1T sherry vinegar, pinch of salt and 8 each chopped shiso and 1/4c parsley.
5. Assemble ingredients in a 9-by-13-inch baking dish (or other shallow baking pan). First layer the eggplant slices, then the tomato sauce, then the shiso leaves and finally a layer of So Delicious® American Style Cheese Alternative Slices, repeat 2-3 times finishing with So Delicious® American Style Cheese Alternative layer. Top with drizzle of olive oil.
6. Bake until So Delicious® American Style Cheese Alternatives have melted and eggplant is bubbling and fragrant, 25 to 30 minutes. Remove from heat and allow to stand 5 to 10 minutes. Serve hot.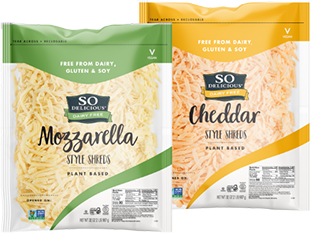 Request a Sample
Makes
---