Cornmeal Crusted Stuffed Jalapenos
Ingredients
10 ea medium-sized Jalapenos,

100g black beans, rinsed from can

50g yellow onion, thinly sliced

95g Field Roast Mexican Chorizo

15g celery

4g garlic

10g coconut oil

2 eggs

2 cups Cornmeal

Oil for frying (canola, grapeseed)
Instructions
1. Slice jalapenos down the center from the stem to about ¼ inch from the tip. You do not want to split the pepper in half, but have ¼" of the tip still attached on the bottom. Using a spoon, scoop out the seeds. Saute onions, garlic, oil, celery, and spices over medium heat until onions become translucent. Add to food processor with sausage, beans, So Delicious® Cheddar Style Shreds, and So Delicious® Mozzarella Style Shreds and pulse to roughly chop. Stuff the jalapeno with the mixture, sandwich it together, and any excess should be scraped off.
2. Whisk two eggs in a separate bowl, and dip jalapeno into the eggs until fully covered. In a separate bowl, drop jalapeno into cornmeal and fully coat. Grab the jalapeno by the stem and place on a plate or tray. Refrigerate for 30 minutes to allow to set.
3. Get a fry pot or medium sized deep pot and fill with oil at least 4" deep. Heat on high until oil is 375F. Gently place jalapenos in oil holding from the stem. Turn the jalapenos so they heat evenly until cornbread crumb is golden brown. Internal temp of jalapeno should be roughly 140F. When finished, place on a paper towel and season with salt. Enjoy!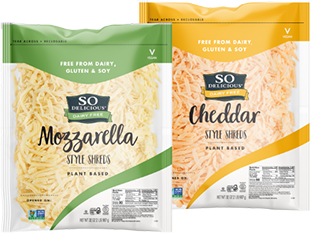 Request a Sample
Makes
---