Chile Relleno With Walnut Sauce
Ingredients
Walnut Sauce:

1 cup walnuts

1 Tbsp olive oil

1 Tbsp brown sugar

1 pinch ground cinnamon

Juice of ½ lime, to taste

1 tsp salt, to taste

Chile Relleno:

4 poblano chiles

1 Tbsp olive oil

½ cup chopped onion

½ cup corn

½ cup chopped zucchini

1 clove garlic, chopped

2 cups all purpose flour

Sea salt

Fresh black pepper

3 eggs

vegetable oil for frying

2 small radishes, sliced

½ cup pomegranate seeds

½ cup chopped cilantro
Instructions
Walnut Sauce:
1. Heat the oven to 300 degrees. Toast the walnuts on a baking sheet until browned and fragrant, 8 to 10 minutes. In a medium saucepan, combine the So Delicious® Unsweetened Original Coconutmilk, olive oil, brown sugar and cinnamon over medium heat. Bring to a boil. Add the toasted walnuts and coconut milk mixture to a blender and puree until smooth. Add the lime juice and salt and adjust seasoning to taste. Set aside.
Chile Relleno:
2. Using tongs, roast the chiles over the open flame of a gas burner until blackened on all sides, 1 to 2 minutes per side. Transfer them to a medium bowl and cover with plastic wrap. Set aside to steam for 10 minutes. Rub off the charred skins with your fingers.
3. Heat the olive oil in a skillet over medium heat. Add the onion, corn, zucchini and garlic and saute until just soft, about 5 minutes. In a medium bowl, mix together the vegetables and the So Delicious® Cheddar Style Shreds. Add the cilantro and ½ tsp salt. Set aside at room temperature.
4. Cut the tops of the chiles off, just enough to remove the stems. Spoon the mixture into the chiles. They should be full but not overstuffed. Set the chiles on a plate and refrigerate for about 30 minutes.
5. Heat the oven to 350 degrees and put a rack on a baking sheet.
6. Put the flour in a large bowl and whisk in ½ tsp salt and and a few grinds of pepper. In a separate bowl, whisk the 3 eggs. Pour enough oil into a deep skillet so that it comes 1 inch up the sides. Heat the oil over medium-high heat until hot. Dredge a chile in flour then dip it into the beaten egg mixture, then once more in the flour mixture. Place the chile in hot oil and repeat with second chile. Fry the chiles, two at a time until golden brown, then carefully flip and fry the other side, about 2 to 3 minutes each side. Transfer to the baking sheet, and repeat with other chiles.
7. Bake the chiles in oven until the So Delicious® Dairy Free Cheese Alternative melts, 10 to 15 minutes. Transfer to a platter and top with the walnut sauce, radishes, pomegranate and cilantro.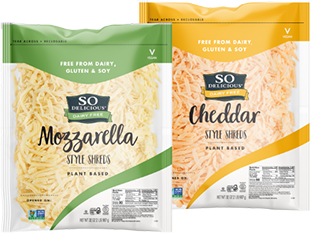 Request a Sample
Makes
---