Cheddar Cauliflower Gratin
Ingredients
Sauce:

200g Cauliflower, cut into florets

75g sliced yellow onion

10g garlic, sliced

15g Grapeseed oil

2g Cumin

2g Aleppo Pepper

Salt to taste

Cauliflower:

300g Cauliflower, cut into medium, quarter-sized nuggets

200g of Prepared Sauce

20g Italian Style Bread Crumbs, plus reserving small portion for sprinkling

Sprinkle of Aleppo

Salt to taste
Instructions
Sauce:
1. Boil the cauliflower florets for 3-4 minutes, or until tender. Do not over boil, as they can get soggy.

In a saute pan on medium heat, take oil, onion, and garlic and cook until onions are translucent.

Add in the So Delicious® Cheddar Style Shreds and So Delicious® Unsweetened Original Coconutmilk, and stir until melted.

Take boiled cauliflower and mixutre and blend until smooth. Season with salt to taste.
Cauliflower:
2. Preheat oven to 450F.

Blanch cauliflower--boil in water for 2 minutes, and then shock in ice water bath. Remove from water, and strain until fairly dry.

In a bowl, add 300g of prepared sauce, blanched cauliflower, bread crumbs, aleppo pepper and salt to taste. Place mixture in a casserole or cast iron pan. Sprinkle top with So Delicious® Cheddar Style Shreds.

Reduce oven temp to 400F, and place dish in oven for 15-18 minutes, or until top is golden brown.

Remove and enjoy!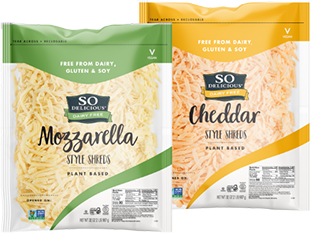 Request a Sample
Makes
---