Cacio E Pepe Cheesy Rice with Maitake Mushrooms
Ingredients
4 cups maitake mushrooms (you can substitute with mushrooms of your choice)

1 sprig fresh rosemary or thyme (optional)

4 cups cooked Arborio rice

1 Tbsp olive oil

1 tsp aonori

1 tsp togarashi

1½ tsp salt, to taste

2 tsp freshly cracked black pepper

Note: Aonori dried seaweed powder and togarashi spice mix is available at Japanese markets or online.
Instructions
1. Combine the So Delicious® Unsweetened Original Coconutmilk and the So Delicious® Mozzarella Style Shreds in a small saucepan. Heat over medium-low heat until melted, 6 to 8 minutes.
2. Heat the olive oil in a sauté pan over medium heat, add the mushrooms and 1 tsp salt. Add rosemary. Saute until the mushrooms are fully cooked, 8 to 10 minutes.
3. In a large sauté pan add the rice and ½ cup So Delicious® Unsweetened Original Coconutmilk over medium-low heat until warmed, about 5 minutes. Add the mixture and simmer at medium-low heat for 4 to 8 minutes until a creamy consistency. Fold in half of the pepper and salt. Taste and add more of both if necessary. Spoon each of four servings onto a plate, and add the cooked mushrooms on top. Garnish with a sprinkle of aonori and togarashi.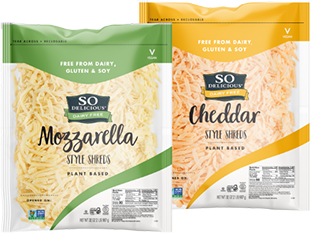 Request a Sample
Makes
---