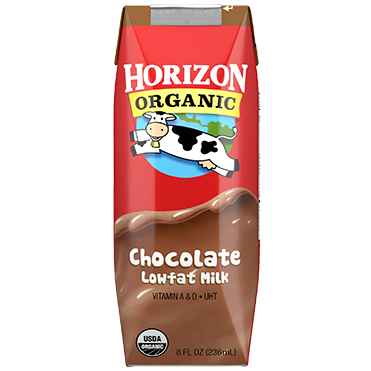 8 oz
Horizon Organic 1% Milk, Chocolate
An alternative to juice boxes, our shelf-stable milk boxes are certified organic and perfect for school and on the go. And they're free of artificial flavors or colors.


Nutrition Facts
Serving Size: 1 container

Calories 150

Calories from Fat 25
Amount/Serving

%DV*

Total Fat 2.5g

4%

Saturated Fat 1.5g

8%

Trans Fat 0g

Polyunsaturated Fat 0g

Monounsaturated Fat 1g

Cholesterol 15mg

4%

Sodium 180mg

7%

Total carbohydrates 23g

8%

Dietary Fiber 0g

0%

Sugars 22g

Protein 8g

17%
Vitamin A 10% . Vitamin C 0% .

Calcium 30% . Iron 4% .

Vitamin D 25% . Riboflavin 25%

*Percent Daily Values are based on a 2,000 calorie diet.
Key Features
USDA Certified Organic
8g protein per serving
20% DV calcium per serving
Ingredients
organic grade a lowfat milk, organic cane sugar, organic cocoa (dutch process), organic cocoa, gellan gum, organic vanilla extract, salt, vitamin a palmitate, vitamin d3.
Certifications & Allergens
Solutions for every industry