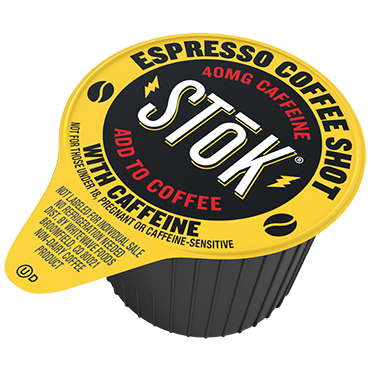 SToK Coffee-Powered Caffeine Shot
STōK up an ordinary cup of coffee by pouring in an extra 40 mg of coffee-powered caffeine. STōK coffee shots are non-dairy, un-sweet and won't alter your coffee's flavor — only its ferocity. For when impossible is one late night away.
Nutrition Facts
Serving Size: per 13 mL

Calories 10
Amount/Serving

%DV*

Total Fat

Saturated Fat

Trans Fat

Cholesterol

Sodium

Total Carbohydrates 3g

1%

Dietary Fiber

Sugars

Protein 1g

1%
Vitamin D 0mcg 0% . Calcium 0mg 0% .

Iron 0mg 0% . Potassium 0mg 0%

*Percent Daily Values are based on a 2,000 calorie diet.
Key Features
40mg caffeine per serving
Warning: limit 2 per day
Ingredients
cold brew coffee (filtered water, coffee concentrate, caffeine), corn syrup.
Solutions for every industry