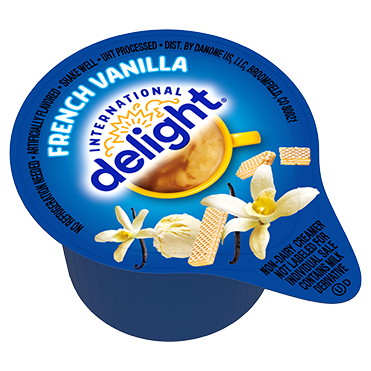 International Delight Coffee Creamer Single, French Vanilla
Delight in the flavor of International Delight coffee creamer. Coffee optional.


Nutrition Facts
Serving Size: 1 Creamer (13 mL)
Servings Per Container 192

Calories 30

Calories from Fat 10
Amount/Serving

%DV*

Trans Fat 1.5g

2%

Saturated Fat 0.5g

3%

Trans Fat 0g

Cholesterol 0mg

0%

Sodium 0mg

0%

Total Carbohydrates 5g

2%

Dietary Fiber 0g

0%

Sugars 5g

Protein 0g
Vitamin D 0% . Calcium 0% .

Iron 0%. Pottasium 0%

*Percent Daily Values are based on a 2,000 calorie diet.
Ingredients
water, canesugar, palm oil contains ms 2% or less of: sodium caseinate (a milk derivative). dipotassium phosphate, carrageenan, mond and diglicerides, natural and artificial flavors, sodium stearoyl lacty late, salt.

*sodium caseinate is not a source of lactose.

contains a milk derivative.
produced in a facility that processes tree nuts and soy.
Solutions for every industry