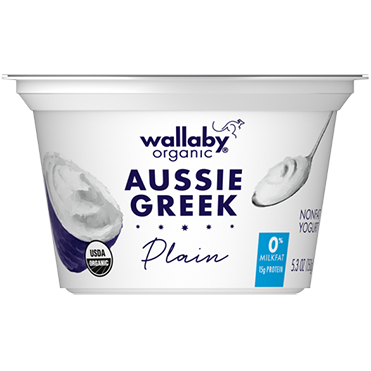 5.3 oz
Wallaby Nonfat Greek Nonfat Plain Yogurt, 5.3oz
Made with premium organic nonfat milk and cultures, Wallaby Aussie Greek has an unforgettable taste that yogurt fans will fall in love with. It's deliciously different — amazing in recipes and smoothies or add your favorite fresh fruit.

Nutrition Facts
Serving Size: 1 Container (150g)

Calories 90
Amount/Serving

%DV*

Total Fat 0g

Saturated Fat 0g

Trans Fat 0g

Cholesterol 10mg

Sodium 55mg

Potassium 7g

Dietary Fiber 0g

Sugars 5g

Protein 15g
*Percent Daily Values are based on a 2,000 calorie diet.
Certifications & Allergens
USDA Certified Organic
Certified Gluten Free
Solutions for every industry